First, let me tell you a little about camp cupcake. We had an indoor weekend with the Guides in October to do our cupcake challenge bag. We made cupcakes (so far, so obvious), cupcake pincushions, cupcake fridage magnets... Then there was the cupcake relay: grab a cupcake, run, slap on icing, run, write your initials in writing icing, run, sprinkles, run, tag teammate. Then you cheer your teammate while wondering if we guiders will believe that you always write your initials "splodge, squiggle, smear". Fortunately, there was also proper cupcake decorating too.
So, how did
Challenge 7
work out for me? The paint here is minimal because I've figured out that's how I like it. Fewer page crinkles :D After some backfires and some now rather sad-looking Bazzill that I practised on - on the plus side I used the colours I wasn't keen on. Just a bit of paint means I don't get the wrinkles but I do get a suggestion of the paint effect I like. Lesson learned! So I've got a bit of a border in white paint around the patterned paper, and some splatters.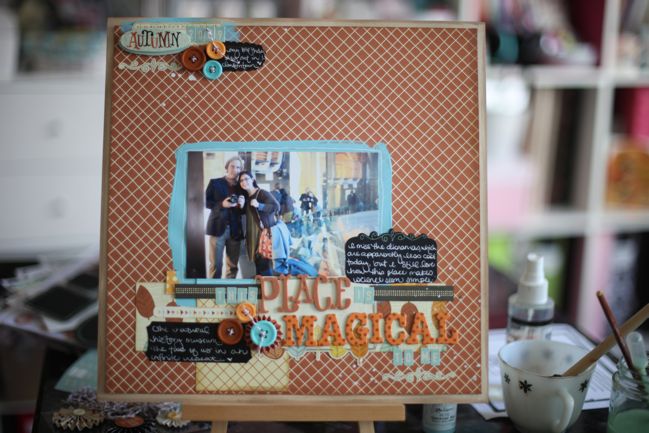 Inspiration for the paint border came from this page of
Shimelle's
which I love! Inspiration for little paint drips? Everywhere!
Spent the most fabulous day in pyjamas, crafting, sorting my new Istanbul pics and generally lazing about which I haven't done in soooooo long. Feels good! I've caught up with episodes of Smallville, Ugly Betty (Thanks LoveFilm!), and Merlin and I shall be catching up with the gossip and scandal over at Downton during the week. So no spoilers, do you hear?
I'm making a stern face and pointing at you all.
And now I'm grinning and yawning so it had better be goodnight.
Kisses xxx
P.S. Going to snuggle in bed with the iPod and watch Shimelle's latest 4x6 photo love. What is it about watching scrapbooking videos in bed that's so relaxing?