You can interpret a challenge as Stuff-To-Have-A-Little-Tinker-With-When-I've-Got-Five-Minutes or as a less relaxed, more military, I-Want-To-See-Your-Pain type thing. Although quite why you'd choose the latter I'm not sure. But last month, I found I didn't do nearly as much crafty as I wanted to because I didn't make the time. And hobbies are important. My Grandad says so. They keep you busy and stop you from getting arthritis.*
So, I want to set myself ten little scrappy goals for the month. Then I have an excuse to break out with the stash, and something to work towards. During the month they can also work as prompts for blog posts and then I intend to round up my progress at the end. Ding! If you play along with any, some or all of the challenges, let me know and I can share linkages.
Oh, and there are no rules :D
*1*
It's got to be a photo challenge. The weather has turned chilly lately and the trees have all burst into a fanfare of colour and the air smells good - not sure why, it just does - and everything is autumnal. So, the photo challenge is: Autumn. Interpret as you will :D
*2*
A colour challenge. Just clicking on 'everything' on
Pinterest
produced a wealth of lush pictures in a wonderful variety of tones. I highly recommend trying it. So I thought I'd have a colour challenge to make the most of such loveliness. There are lots of options on the
aforementioned procrastination capital of the internet
, lots of inspiration on
Design Seeds
and so many different faces of colour that it's hard to choose. But I pick this one :D Feel free to pick your own.
*3*
Bit of a technique challenge this one. As I've just started getting savvy with the sewing machine (even managing to whip up a last minute drawstring bag to take to camp - oh yes!) I set the challenge thus: Include some stitching. I interpret this to mean hand stitching and machine stitching. It's meant to be a challenge after all. Feel free to eschew one or t'other.
*4*
Scrap from a sketch. Self-explanatory, so I'll leave it there. All you need to do is find your sketch!
*5*
I think this one will be tricky: use a found object on a page. I'm rubbish at including bits and bobs on the page that aren't stash items. I think they're not as pretty. So I am going to confound my own short-sightedness and find some pretty labels or tickets or leaflets or something to use on a page.
*6*
Scraplift a page. I love scraplifting, because you can steal, appropriate and generally thief as much as you like. So I shall find a page I adore (like this one by
Kelly Purkey
) and borrow the best bits for my own design. Then I shall call it inspiration and credit the original page because the internet is nice like that.
*7*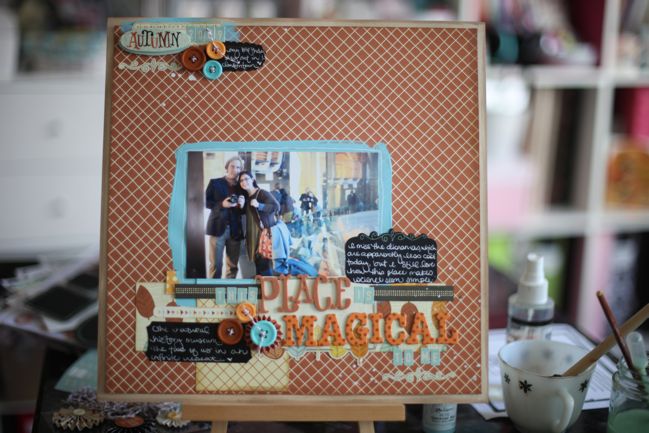 Time for another techniquey one. And this time it's paint. I love paint and lots of people use it beautifully. Witness
Shimelle's
page above. So I like the paint look, but I hate the crinkles. My challenge is a way to incorporate paint in such a way that I get the look without the wiggles.
*8*
Tell a story. A long one. And find a new way to include the words on the page. I'm all about the journalling and I love finding new ways to share it. So this challenge will (hopefully) make me think up something new!
*9*
Scrap about myself. Not something I did, but about me. So whether I go for
the contents of my purse
, my google search history or a timetable of a typical day remains to be seen. What would you choose to scrap about to show a new side of yourself?
*10*
Take up a challenge from the internet.
Studio Calico
,
October Afternoon
and
Shimelle
all have blogs bursting with ideas and challenges whether it's a sketch, a starting point, a product or a technique. I follow lots of scrapbooking blogs but somehow I never seem to get round to participating. This month, that's about to change.
And that's all folks! It's going to be a scrapbooky month. With any luck :D
Kisses xxx
P.S. Actually have about fifteen more potential self-challenges in my head so if this works for me, I can try it periodically. Are there any other kinds of challenges that you love? Are you planing to join me on any of these this month?
P.P.S. Please so. I get lonely.
P.P.P.S. In case you were wondering, I'm making a cliched yet strangely heartbreaking sad face,
P.P.P.P.S. However, it was immediately ruined by excessive smirking.
*True story. My Grandad totally says this is true. He makes things too, but things like radios and model railways.